Talk To A Mattress Expert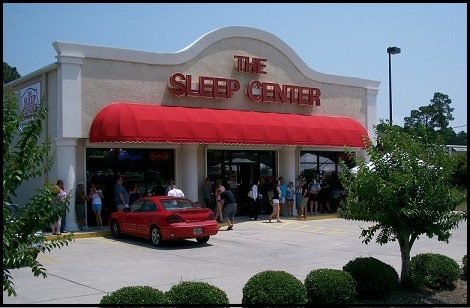 The Sleep Center. 1830 W 23rd Street, Panama City, Florida 32405.
As your friendly neighborhood sleep specialty store, we are located in the heart of Panama City, Florida, directly on 23rd Street. Our massive stand-alone building is easy to see from 23rd Street. Another way to locate us is to find Sam's Club, since we are across the street. Or by finding Bill Cramer Chevrolet, since we are just East of their wonderful automotive dealership.
The Sleep Center's mattress showroom is a staple to our community since Richard Branham, the owner, is active with many local charities. For anyone that has grown up watching Richard and his family grow up in our TV commercials, they will likely sing our signature tagline... Just Look For The Big Red Canopy... and we'll sing along with you when you arrive.
Our store hours are Monday - Saturday 9:00 am - 6:00 pm and Sunday 1:00 pm - 5:00 pm. Our store management team is Mitch and Tom and they will ensure your well cared for!
Call For Care: (850) 785-0910. Mitch, Manager or Tom, Assistant Manager.
Need More Help from The Sleep Center?
The Sleep Center in Panama City, Florida is locally owned & operated and here to care for your mattress needs for life. It's that simple. If you need assistance with anything at all just let us know. Please use the web form below for low urgency inquires. Please call or visit our store for anything immediate.
The Sleep Center in Panama City, Florida is locally owned & operated, with franchise buying power to save you money. We have the area's largest "in-stock" selection of the finest mattresses made in the USA. Shop Tempur-Pedic, Stearns & Foster, Sealy, Serta, and Simmons mattresses, along with murphy beds, futons, headboards, bunkbeds and bedding accessory items. We are located at 1830 W 23rd Street Panama City , FL 32405. We are just east of the 23rd Street and Frankford Ave. intersection.
Finance your dreams, put it on free layaway, write a check or use your credit or debit card - it's purchasing made easy. At The Sleep Center, it's all about you.
Busted trucks and third party delivery crews are great for some but as the delivery pros, we have dedicated trucks and an exclusive delivery team that are our employees.
Visit Our Showroom

The Sleep Center
1830 W 23rd Street
Panama City, Florida 32405
Store Hours

Monday - Saturday
9:00 AM - 6:00 PM
Sunday 1:00 PM - 5:00 PM