Our Golden Standards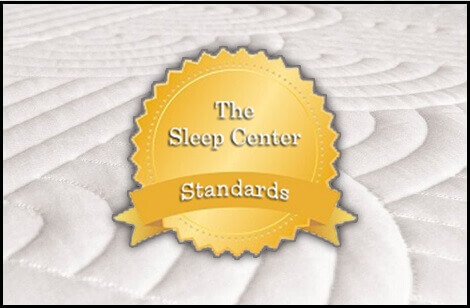 Our Foundational Values To Care For You.
The Sleep Center is the South's most-trusted sleep specialty retailer and we truly care about you. Our focus is on you and our golden standards are designed to promote the core values of our company. You can rest assured that we are here for you when you need us.
Please take a moment to scroll down the page and review our Golden Standards. They are our foundational values to care for you before, during, and after the sale. We have many years of dedication to our wonderful Panama City community and we have been able to provide an exceptional mattress shopping experience to tens of thousands of people in our company's history.
Contact Us For Care
Talk to a Mattress Expert in Panama City 850-785-0910
Professional staff with no pressure browsing. We do not employ salesmen. Our team members are factory-trained mattress experts that know how to care for you..
Locally owned & operated with franchise buying power. The Branham family lives in Panama City. They own & operate The Sleep Center of Panama City to provide you a wonderful mattress shopping experience. We save you big with our unique buying system.
Massive in-store inventory system for fast delivery. We haven't found anyplace in Bay County with a larger selection of name brand mattresses in stock than The Sleep Center and we believe there's nobody even close. This means we can deliver your products superfast or load your truck for nearly instant sleep satisfaction.
Open 7 days per week. We know how busy life is. When you have a moment to shop for a new mattress, futon or sleep related product - you need a local store dedicated to you, and that is what The Sleep Center proudly provides.
Lowest prices. We truly do offer the lowest prices and we will price match, if it can be found locally for less.
6 months free layaway. This allows you to make the most of your budget. It's our pleasure to offer this to you at no cost whatsoever.
We accept cash, checks, and major credit cards. We want your shopping experience to be the easiest on you, and we make paying for your purchase easy, too.
Financing is available. Of course, it is with approved credit.
We only represent the best brands in the United States. We stand strong with declining offers to sell products that do not meet our high level of expectation. This ensures you are only offered the finest sleep related products.
Expert delivery team. We carefully created our delivery system so that it is the best in the industry. Our own employees, our own trucks, our own procedures, and our own demands on you getting white glove treatment.
If we can add anything more, it would be that we really appreciate you visiting our website, connecting with us on our social media pages, and stopping by the store. We really appreciate you giving us the chance to speak with you about your intended purchase. No matter how we say it, you come first with us!
Friendly professional mattress experts in Panama City, FL since 1995
The Sleep Center has a deep connection to the Panama City area as caring locals that provide quality products at the overall best value for your money. And our extensive continuing training programs and close dynamic teamwork is orchestrated by our store owner, Richard Branham. Buying from The Sleep Center is a smart choice when you want to get the most for your dollar while supporting a local business heavily involved in numerous local charities to support community care. The Sleep Center has earned Best of Bay for many, many years in a row through a continual focus on each customer we serve with our Golden Standards.
Have A Mattress Question?
We are located at 1830 W 23rd Street Panama City, FL 32405, just look for the big red canopy across from Sam's Club. Ask about our convenient financing options and our superfast delivery options by our in-house delivery pros.
Finance your dreams, put it on free layaway, write a check, or use your credit/debit card - we have options for you to make purchasing & paying with us easy.
Busted trucks and third party delivery crews are great for some but as the delivery pros, we have dedicated trucks and an exclusive delivery team that are our employees.
Get In Touch

Fax: 850-785-0899
Visit Our Showroom

The Sleep Center
1830 W 23rd Street
Panama City, Florida 32405
Store Hours

Monday - Saturday
9:00 AM - 6:00 PM
Sunday 1:00 PM - 5:00 PM