About Us - The Sleep Center, Panama City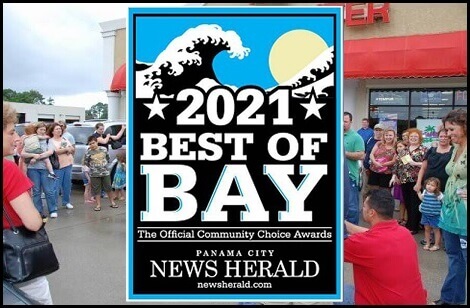 The Sleep Center is locally owned & family operated.
The Sleep Center in Panama City, FL opened its doors to the public in 1995 at the direction of Richard Branham, a Veteran. By following the traditions of the earlier stores, it quickly became the area's most trusted specialty sleep shop.
He soon outgrew his first location and by 1998 he opened a new, larger store that covers nearly 10,000 square feet. The Sleep Center is part of a large buying group that allows us offer volume pricing discounts to our customers.
Contact Us For Care
Talk to a Mattress Expert 850-785-0910
Best of Bay Winner For Over Seventeen Years in a Row.
Richard Branham lives in Panama City, Florida along with his wife, daughter, and extended family and he cares passionately about Bay County's success as a whole. You can often find the Branham family attending a community event or giving back at a charity function. As the operator of this locally-owned family business since 1995, Richard spends his time in a positive way and believes in paying it forward and giving back to help others succeed in life, too. It's part of the founding principles of The Sleep Center.
The Sleep Center has been a Reader's Choice Best of Bay Winner for seventeen years in a row. Not only are we honored today, we are determined to win your trust over tomorrow, too. Come on in and let us show you why we are The Mattress Experts here in the Panama City!
Have A Mattress Question?
We are located at 1830 W 23rd Street Panama City, FL 32405, just look for the big red canopy across from Sam's Club. Ask about our convenient financing options and our superfast delivery options by our in-house delivery pros.
Finance your dreams, put it on free layaway, write a check, or use your credit/debit card - we have options for you to make purchasing & paying with us easy.
Busted trucks and third party delivery crews are great for some but as the delivery pros, we have dedicated trucks and an exclusive delivery team that are our employees.
Get In Touch

Fax: 850-785-0899
Visit Our Showroom

The Sleep Center
1830 W 23rd Street
Panama City, Florida 32405
Store Hours

Monday - Saturday
9:00 AM - 6:00 PM
Sunday 1:00 PM - 5:00 PM